Support a long term volunteer!
Giving support to these families helps us further our impact in Guatemala!
They have dedicated their lives in support of Hope of Life and they are helping us change lives forever.
Through your support, these families can find an endless supply of this love as they help us save lives. By supporting our long term volunteers, you are providing tangible resource to the change we all strive to see in Guatemala. These loving families are making a difference every day and can continue to do live saving work with your help!
Support the Nash family!
Mark and Julie Nash are full time missionaries serving at Hope of Life International in Guatemala. Three years ago, they moved to Guatemala in September from Appomattox, Virginia. They have 4 children, the youngest two are twins and lived and served with them at Hope of Life for two years and now attend Liberty University. Julie is the preschool director at the Village of Transformation at Hope of Life, overseeing two preschools and a daycare and also helps in the Causelife Village. Mark works on many projects at the ministry, helping to maintain and improve the facilities at Hope of Life. The Nash family says they are living out the Gospel by sharing the love of Jesus and transforming the lives of the people of Guatemala.
Support the O'Connor family!
The O'Connor family of six arrived to Guatemala to serve as full-time missionaries at Hope of Life in July of 2017.  They are supporting the ministry through aviation, nursing and orphan care. They moved from Buffalo, NY to begin serving full time. Jonathan is often working in the maintenance shop on Hope of Life's campus, working on the fleet of vehicles at the ministry. Allison serves at the hospital sharing love and hope with children and works medical clinics in a rural villages. They say that they are so thankful and very excited for this incredible opportunity to serve as the hands and feet of God!
Support the McNutt family!
Chris and Paula McNutt are full-time missionaries at Hope of Life. They have been at Hope of Life in Guatemala since January 2017 but they say their hearts have been here since the first time they visited in February of 2010. As nurses, they often serve in medical clinics and the External Consult program at the ministry. They hope to one day serve in a surgical program at St Luke's Hospital. As full-time missionaries to the Hope of Life/Causelife village, Chris and Paula focus on the spiritual needs, physical well-being, education, prosperity and economic self-reliance of individuals within the community. In the village, Chris and Paula assist the pastor with a children's, youth and adult ministry, spreading the love of Christ across the entire community.
Support the Thomas family!
Hanna and Evan Thomas moved to Guatemala in the Fall of 2017. They are providing Family Style Orphan Care to orphaned children and they plan to build a home in Safe Haven Village and raise a house full of children who will grow to know Jesus and love Him deeply. They have eight children, spanning from 2 and a half to 17 years old and their backgrounds are drastically different. Hanna and Evan say they are so thankful for each and every one of their children, the talents and gifts God has blessed them with, and their sweet smiles  they have been blessed to see each day.
Support the Saulton family!
Whitney and Bryan Saulton came to Guatemala to serve full-time at Hope of Life in January of 2016. Whitney serves in St Luke's Hospital – working with indigenous families and babies who will be provided with medical care. She also assists in baby rescues for children who are brought from rural regions back to Hope of Life for medical attention and care. Bryan uses his culinary arts management degree to provide each meal for visitors, volunteer groups and staff on Hope of Life's campus. He and his trained staff provide delicious meals to as many 300 guests at a time. Both Whitney and Bryan have been a blessing to Hope of Life and we are thankful for their commitment to saving lives.
Support Lauren Caudill!
Lauren Caudill moved to Guatemala June of 2015. Graduating from Liberty University with a degree in psychology and human development, Lauren felt God calling her to Hope of Life in Guatemala. At 25 years old, Lauren is currently working as the transition class teacher at the village of transformation in the mornings. In the afternoons, Lauren also has begun teaching a class with some of the children and adults living in Kelly's house. She works one on one with the students, passionately teaching and helping them grow with each lesson!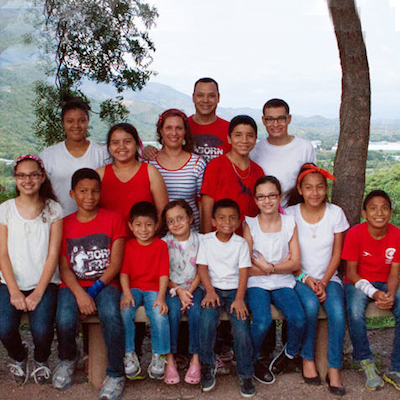 Support the Rule family!
John and Tanya Rule are one of the families in our Safe Haven Village, a small community on campus that cares for orphaned children. They first came to serve at Hope of Life through multiple mission trips in 2013 and 2014. During this time, they held various Medical Clinics within the surrounding villages of Zacapa, Guatemala. John was able to utilize his experience as a paramedic to help meet the physical needs of the people. Since 2014, their family has committed themselves to serving God by taking part in Safe Haven Village and providing family-style orphan care.
Support the Holt family!
Matt and Jessica Holt first visited Hope of Life to serve with a team from Lifepoint Church in June 2012. They have organized and led new groups to serve on mission trips through Hope of Life and have witnessed their friends and family's hearts captured by the people of Guatemala. In 2013, they shared a wish to be the first family to establish Safe Haven Family Village at Hope of Life's campus. Since then, through family style orphan care, they have been raising orphaned children in the love of the Jesus in a stable, healthy environment at the Safe Haven Village.
Support the Monk family!
Patti and Phil Monk are one of the families in our Safe Haven Village, a small community on campus that cares for orphaned children. After spending a week at Hope of Life International in Guatemala in 2013 on a short-term mission trip, and seeing the great need for children to have families, Patti and Phil knew God was calling them to something near to his heart: to provide needy children with a safe, loving family environment. They moved to Guatemala to serve as volunteer missionaries parenting orphaned children. They have 9 precious Guatemalan children to care for and in total, they are now a family of 14! Their work in Guatemala includes all you would expect from a big family: Many meals, chores, tutoring, bible studies, medical appointments, house maintenance and family time.